Okay.
This is the THIRD time I've written this very long and labour intensive post. I'm hoping the one you actually read isn't the fourth (

or fifth or sixth

).
I had the chance from the end of the October until the middle of December to travel with my in-laws to Red Deer, Regina, Calgary, Toronto and Vancouver and work in their Cranberry Creek booth at some of the largest Christmas craft shows in Canada.
Along with a lot of working, I (

of course

) did a lot of shopping. And lucky for me, because my birthday and Christmas are both in December, lots of the goodies I came home with were presents!
I'm going to introduce to you my absolute favourite businesses, products and people that I came across during my cross country galavant.
:: just for kids all natural shampoo and conditioner - Kogi Naturals ::
I came across this product in Vancouver, and was so excited to get it home and use it on my girls. The tangerine scented conditioner is amazing and I no longer need to use a detangler before I brush Denay's hair. And, of course, I can pronouce each one of the ingredients. I'm no longer a LiveClean user (

which I discovered isn't as "clean" as it's made to appear

) and once I finish with the bottle of hair care I'm using from the grocery store, I'm going to switch to Kogi's Rosemary and Mint line (LOVE that combo).
:: princess art print -
Cici Art Factory
::
This is my second purchase from Liz at Cici. I got my
first
last year at the Vancouver show and when I came across her booth again this year at the same show and she showed me the corresponding print, I had to have it. Liz's art is so playful and whimsical and original. If you are looking for a unique and special baby shower gift or some affordable art to add some flair to your own little one's room, her 8x10 prints are super afforable and she's got so many different collections and options.
:: lilith earrings -
Foxy Originals
::
Foxy had booths at a few of the shows I worked, and I went back oodles of times just to look at and admire their stuff. I was scanning their website one night and saw a picture of Paris Hilton wearing these earrings. Their stuff is chic and (

the best part

) totally reasonably priced and I have fallen in looove with their
dahlia
earrings.
:: chai spice -
Daksha's Gourment Spices
::
This very full-bodied spice mixture can be used in lots of different ways, but it was suggested to me by the owner as a before bed tea to help with a good sleep (

which tends to be an issue for me

). I find it very relaxing and enjoyable having a cup at night while I read!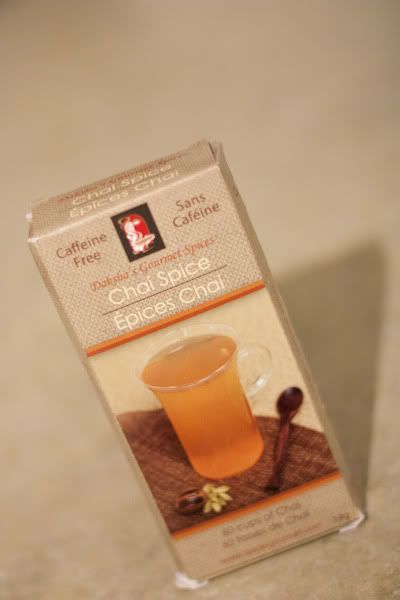 :: yerbe mate tea -
Mate Factor
::
I. am. addicted. to their cinnamon rooibos tea (

a cup is part of my new morning routine

) but the lemon ginger is also lovely. This tea is organic, fair trade, naturally energizing, full of antioxidants and trace minerals and is delish!
:: dream weaver mister -
Soulful Sister Aromatherapy
::
Joanne was our neighbour in Vancouver and all of the gentle scents coming from the booth was very relaxing. I got this in my stocking and spray it on my pillow and sheets (

and all over the place

) before bed and because there are no artificial scents and only essentials oils, it is very soothing and gentle smelling. Joanne has a huge line of products, from misters to roll-ons, candles, lotions, bath salts, linen water and more!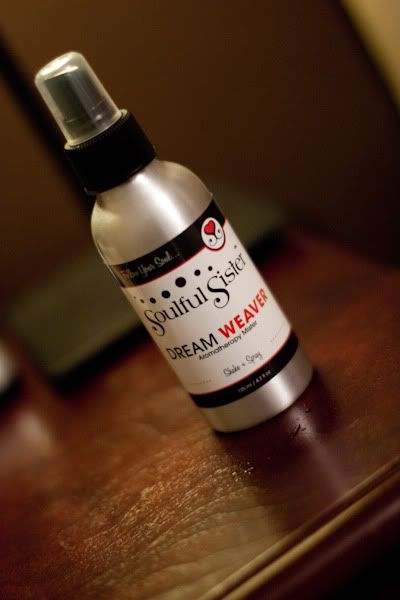 :: twig toggle bag -
Honeybea Design Hive
::
I didn't choose this bag, it chose me. I walked by Becky's booth for the umpteenth time in Toronto (

adoring her coaster-sized button bags and bumwarmers everytime

) but this time, I swear I heard this bag call my name. I tried it on, put it back, left. I did that two more times, trying to be responsible and convincing myself I didn't need it. When I finally decided to buy it (

with my mother-in-law's encouragement

), I returned to the booth to find it gone. Little did I know that my MIL had bought it under my nose for my hubby and I found it under the tree on Christmas morning. The designer, Becky and I are both in agreement that this bag is very special, and I love that it's mine!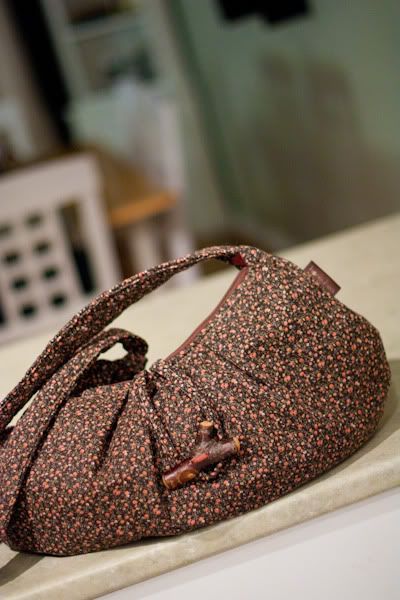 :: super garlicky bread dipper -
The Garlic Box
::
My husband and I came home from Walmart one night with one of their huge $1 sour dough loaves of bread......

and then we sat down and devoured the whole thing in one sitting with this dip

. If that doesn't tell you how good it is, I don't know what will. It. is. goooood.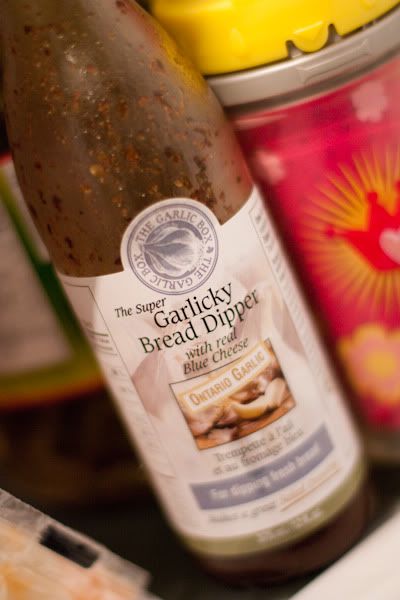 :: one piece top -
Kania
::
This is my second piece from Kania and I love the fabric, structure and fit of her designs and I love that this hot coral is like me in a color.. I got this on sale and love how it can dress up a simple long sleeve shirt and a pair of jeans. It's cut like a donut out of fabric and can be worn belted or unbelted like a vest (

right below

) or a shawl/cape (

next photo

).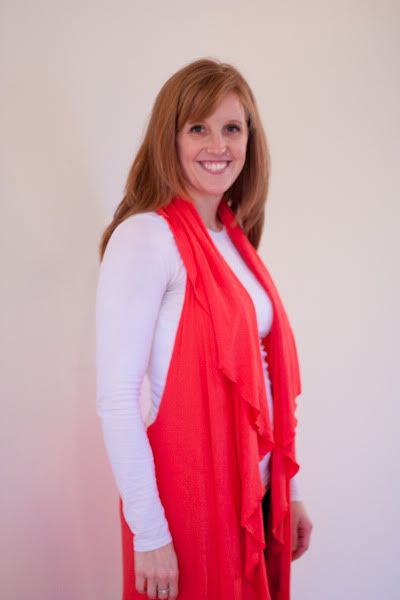 :: keremeos cowl -
Lucky 14 Handmade
(
see FB page here
) ::
It's warm, soft, thick and fabulous. I tried all of Beatriz's styles on (

a few times

) and found a hard time making a desicion because they are all so lovely. Love, love.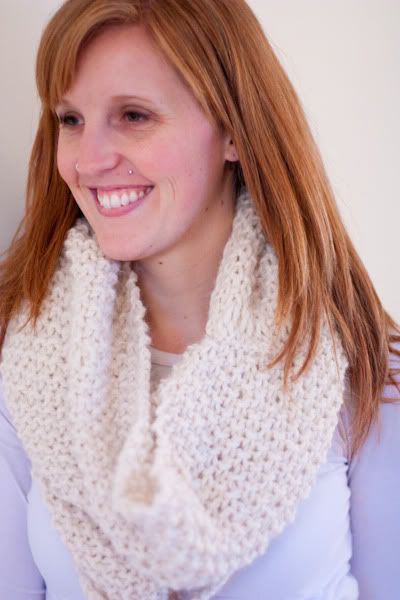 :: feather headband -
Thug Fairy Designs
::
I bought this for my husband to put in my stocking :) It's perfect for snazzing up my hair when I only have time to throw it in a messy pony.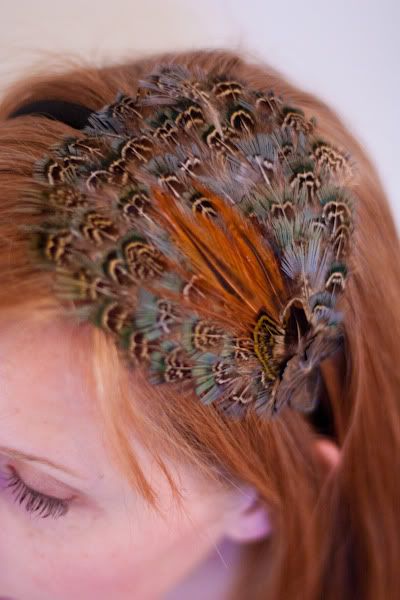 :: fascinator inspiried headband - Batavia by Sil ::
I met Sil in Toronto and tried on almost all of her recycled material headbands to find this one and I adore it. She is such a sweet lovely woman who even brought her little ones to the show one day. I hope to see Sil's talent and love for keeping fabric from landfills, take her far.
:: genuine emu feather earrings -
Featherettes
::
I met Katy and Katie in Vancouver and snagged their second to last pair of this style of earrings. Their stuff is super chic and funky and is handmade not far from where I live and I hope to add some more of their designs to my accessories wardrode sometime soon.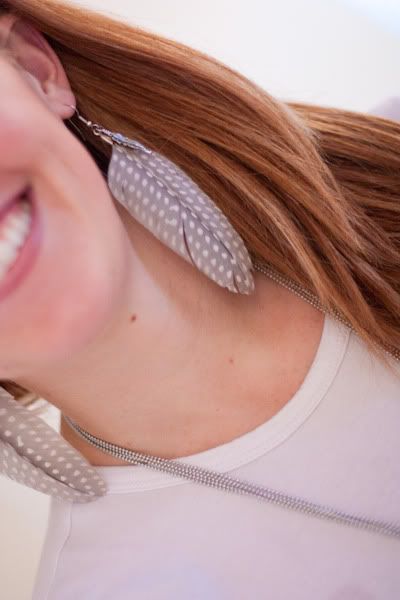 :: micah sweater in soft pink -
Luved Clothing
::
I got this top as a gift for my birthday and just love it. It's soft, comfy and oh-so versatile! Luved has a line of one-size women's clothing that are made to be worn numerous different ways and can be dressed up with leggings and boots or dressed down with jeans and flats.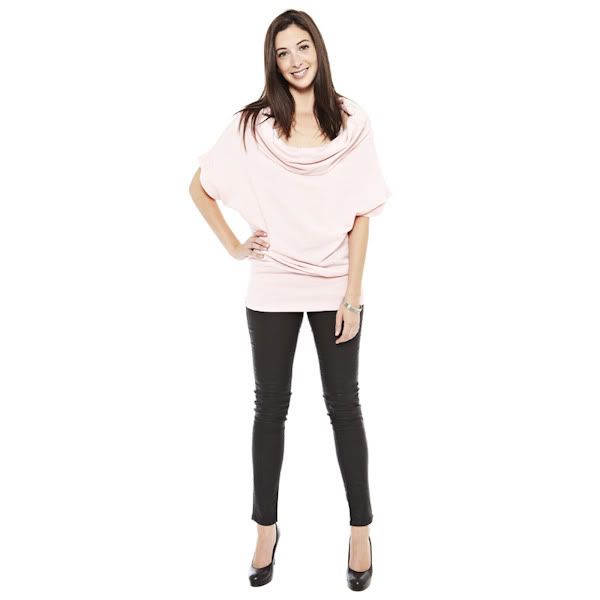 Phew.
My blogging marathon means your reading marathon.
Be sure to check out these artists/products and support Canadian made!