Oi.
We have been

sick

.
I'm not talking snotty-noses-and-sneezing sick. I'm talking, well, how about I spare you the details and let you know it hasn't been pretty. This time last week my husband had been to work, come home an hour later and had yet to resurface and then was home again on Friday from work. We were good until Sunday night when my dear Denay was up until 2:30am throwing up an empty stomach. Then, yup, Tuesday night was my turn. Hit me out of nowhere and I honestly have never been sick like that in my life. I remember thinking two things: the first being that I really just wanted to die and the second being that I would rather go through my two homebirths again than what was happening at the time
So today I am still recovering. Still very weak from little food and water and still tired.
Thankfully, I completed this fun little project on Monday night, otherwise I'm pretty certain it wouldn't have gotten done!
My SIL
Shawna
posted last week about some cute decorating she did for Valentine's Day, and it looked so cute (

and

I could do it for free with stuff I had at home

) I whipped up a gaggle of little pendants from scrapbooking paper, strung them on some gift wrapping twine I had and hung the banners up around the house.
It didn't seem like much when I was doing it but with the few other little details I added, it really feels celebratory!
::: kitchen window coffee filter wreath strung with a banner :::

::: kitchen sill with cute LOVE plaque (

a gift from afore mentioned SIL

) and a small vase filled with yummy cherry candies courtesy of Grammie :::

::: dining area wall with banner and fake flower decor (

borrowed from the girls' bedroom

) :::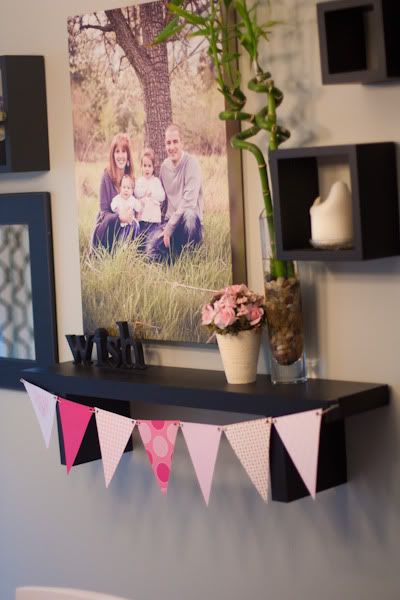 ::: corner hutch with "be mine" banner (

done with scrapbooking chipboard letters

) :::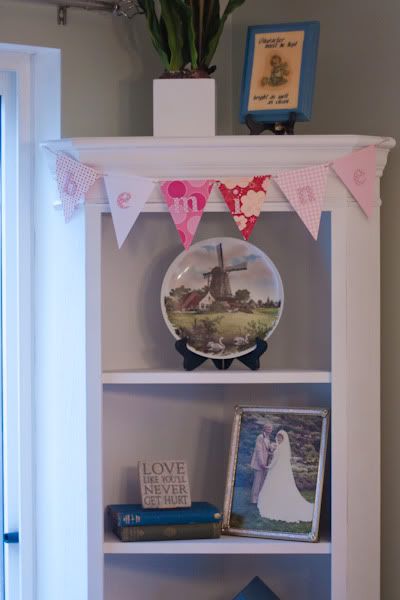 ::: small vase with fake gerbera daisies (

again from girls' room

) on coffee table :::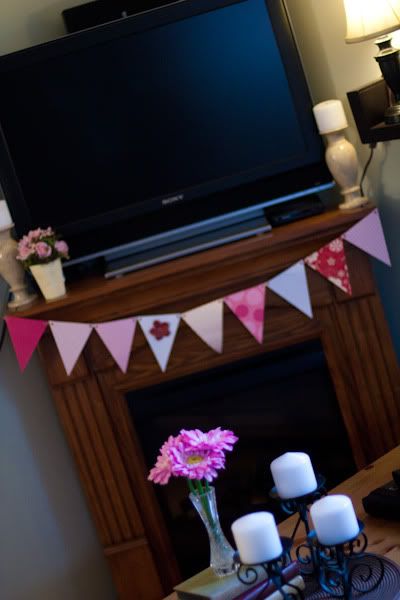 ::: fireplace with banner and pot of fake pink mini-roses (

girls' room

) :::

There you have it!
Total cost - ZERO.
Sometime today Denay and I are going to make Valentine's for her classmates from, you guessed it, mommy's scrapbooking paper.
Happy

Friday

Friends!