.....been keeping me.
We have had a busy last weekend and last few days. Dinners with friends, church functions, and two straight days of photographing the creation of two display cakes has left me with little blogging time.
I've also been working on a few last details around my downstairs.
I had been keep my nose to the ground for some new throw pillows for my couch and love seat. The one I had were original and dated and, let's call a spade a spade, BORING. Along with age, I seem to have developed an affinity for pattern!
I refused to make an entire day out of driving two hours both ways out of town just to find new pillows, but after searching every store in town, I marched into our local Fabricland, spent a half hour humming and hawing, and asking total strangers their opinion, and walked out with four different designs. Then I found an awesome (

and SUPER easy to the point of being dummy proof

) tutorial on YouTube for envelope pillow covers. And even though I had orignially planned to ask a girlfriend to sew the covers, I thought I'd give it a go myself.
So on Tuesday, when I was finished all my cake photography, and while my girlfriend was whipping icing, she let me use her machine, and after about an hour of sewing, my pillows went from this......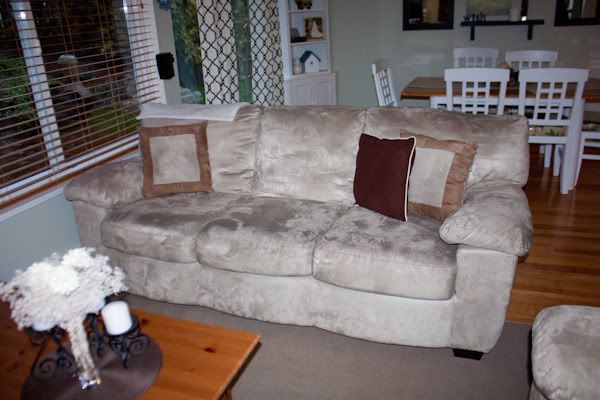 .....to this.....

The black and white pillow were store bought but all the others are the beige pillows with my covers on them.
I'll be honest - I'm pretty dang-gum proud of myself.
I got up the next morning and the first thing I did (yes, before kiss and hug my children) was head downstairs, just to admire them.
I will say, that life full of patterns is FUN and it makes my house feel happy.
Be sure to check back here at 10:00am on the dot tomorrow morning for the big annoucement of the soap nuts giveaway winner!