I've never had to give too much thought as to what I fed my children. We are (

were

) a completely allergy-free, intolerant-free home.
After our visit to the allergist last week, turns out Denay (

with some doubts from my mothering instincts

) has a whole slough of allgeries.
Without going into any great detail, I think, with the input of a bunch of family and friends, I've narrowed it down to dairy as the culprit for the reaction that keeps showing up on her lovely little face.
So now that task at hand - feeding her without dairy. Now, let me add that you are reading the blog of a girl raised on 100 acres of dairy farm and fresh cows milk every morning. So needless to say, it's a staple around here. Between yogurt, milk and cheese, we eat

a lot

of dairy.
Lunch and dinner were not so difficult, but it's breakfast that I've been needing to get creative.
I was cleaning out the fridge earlier this week and came across a half used-up zucchini, and had a lightbulb.
Muffins

.
I searched around and found
this
recipe and after reading the reviews, made a few changes to make them a little healthier (

since they would be a breakfast food

).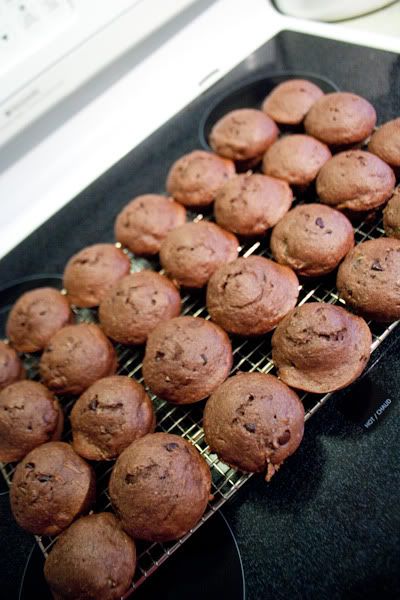 Chocolate Chip Zucchini Muffins
3 eggs
1/2 cup brown sugar
1/2 cup white sugar
1/2 cup splenda (optional)
1/4 cup vegetable oil
1 cup pureed banana or apple
1/3 cup unsweetened cocoa powder
1 1/2 tsp vanilla extract
2 cups grated zucchini
1 1/2 cups white flour
1 1/2 cups whole wheat flour
1 tsp baking soda
1/2 tsp baking powder
1 tsp salt
1/2 cup semi-sweet chocolate chips (optional)

1. preheat oven to 350F and lightly grease or line two twelve cup muffin tins
2. in large bowl, beat eggs then beat in sugar and oil. add cocoa, vanilla and zucchini and mix well
3. stir in flour, baking powder, baking soda and salt (I omitted all of the spices in the original recipe) and mix until moist
3. pour batter into prepared miffin tins filling 2/3 and bake at 350F for 20-25 minutes. remove from pan and let cool on wire rack
Yummy, yummy, yummerson.
My kids DEVOUR these and have no idea they have vegetables in them.
You could make then even healthier by using all whole wheat flour and omitting the oil altogether and adding a little more apple or banana puree to keep them moist. The original recipe called for 2 cups of white sugar, and I switched it up a little more with the half and half and splenda, but plenty of the reviews omitted half of the sugar completely.
Happy Breakfasting (

and Friday

)!