Well, isn't this your

lucky

day!
You clicked over to my blog hoping to reading something enriching, funny, informative, practical, learn about a great new product or see some cute photos of my darling children.
Nope, none of the above.
Today all you get, is me - dressed.
Like I said, lucky day right?
:: this was my last week Wednesday outfit. We had a playdate in the morning and weren't out of the house until the evening for a course at church ::
top - american eagle (from winners)
jeans - not sure of the brand but they were free!

:: I wanted to post this outfit because I'm so excited about this top! I was having a quick browse at our local Bibles For Missions thrift shop for a small table lamp to refurbish and something caught my eye. Without even trying it on, I walked out of the store with this diddy for only $3.31 ::
top - BFM
long white tee - jacob
jeans - wearhouse one
scarf - SheBella accessories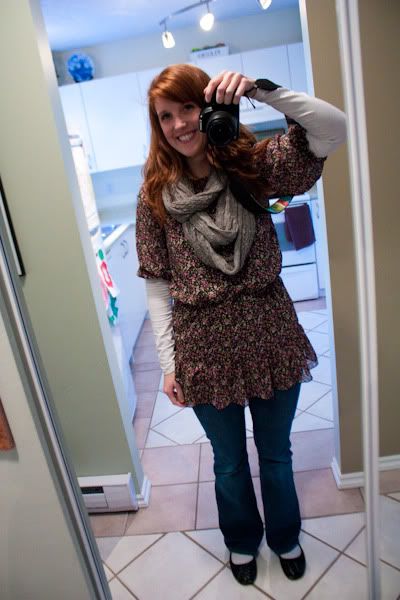 And to answer the two questions you are asking:
#1 - YES! I am still loooving my new hair color. Usually when I do something like that, it's a good week before I feel like I can stop looking in the mirror 20 times an hour to enjoy the new look but it's only been a few days and I already feel like I've had this hair color for years.
#2 - Yes, I am wearing black flats with white socks. But no, I don't wear my choes in the house. I bought the shoes at Walmart for $9 for Cranberry Creek as a switch out pair for when my feet needed a break. I got every cent of my $9 out of wear out of them, because they are scuffed and stretched and not any good for wearing out. So rather than tossing them, I've adopted them as my hardsoled slippers. They don't quite keep my feet as warm as my fuzzy ones but I prefer wearing them.
And don't forget, if you haven't entered to win a free package of Cleaner Planet Soap Nuts, you only have until tonight at midnight to leave a comment!
Enter
HERE
.
Happy Hump Day!