A little while back, I

posted

about the major switch we made from two bedrooms, to a bedroom and a playroom for the girls. To answer the most

common

question I've been asked since then, things are going so very,

very

well. We have always played music for the girls while they sleep, so they are very used to not having quiet. So now, when

one

of them wakes up crying, we've found the other isn't usually disturbed.....and, never having a sister, I'm

so

enjoying watching them share a room together!
I had Paisley's name photographs from

Alphabet Photography

that I'd taken out of the frames in the (

now

) playroom and replaced them with black and white photos of the girls together. So I was left with the letters and knew

just

what I wanted to do with them.
Last week I had a few evening hours to myself, and while watching the five part Pride and Prejudice mini-series, I hauled out my scrapbooking paper, hot glue gun and ribbon, and this is what I came up with.....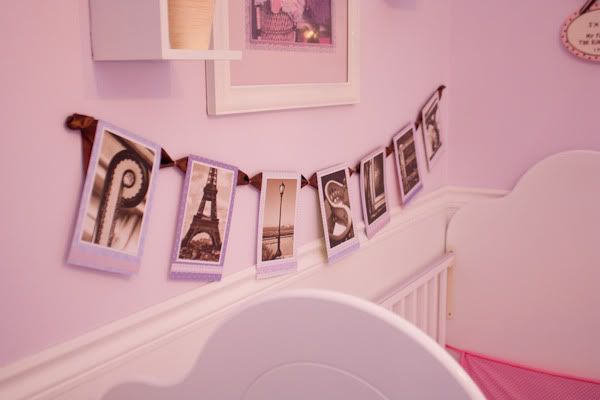 {I went with a

purple

pattern theme, cause Paisley is my purple blankie girl}