If you care to know the reason I've been such an absentee Blogger lately, this.......

......is why. Long story short, my

SIL

sent me a few of

these

handmade paper flowers on the gift she sent me for Mother's Day. I saw them again on a mutal friend's FB page and underneath the photo she had mentioned the

Jones Design Co.

website. So I checked it out and was immediately in love! Her tutorials page is absolutely jam-
packed
with amazing, fun and easy do-it-yourself home decor ideas. I opened the page for her coffee filter foof, and seeing the photo of the Nester's coffee filter wreath, ALL combined with being totally inspired by the homemade wreath hanging in the kitchen window over at Jones', I was going to have one.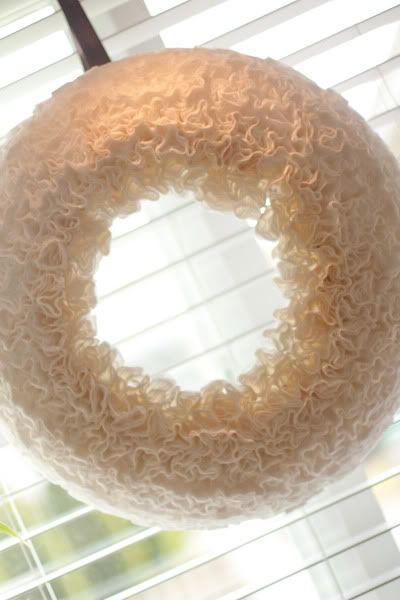 This was my second go at it, as I had already made one for my momma (

complete with butterflies

), and I did find things moved along with a little more ease on mine, it sure took no less time!
I'll forwarn you that this wreath took me a good

six

(

if not more

) hours to complete, HOWEVER, I think the way I chose to roll my filters had a

lot

to do with that.
SO! Let's get to it!
I started out with a 12" wreath form I picked up at Michael's (but any size would work!)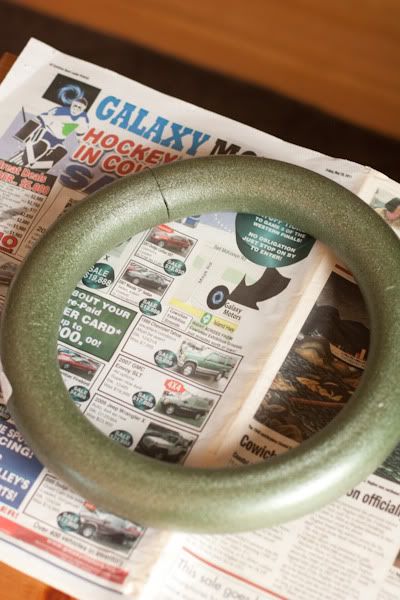 Then I wrapped the wreath in ribbon and glued with a hot glue gun (

you will need lots of glue sticks

!). You could skip this step

if

you intend to hang your wreath on a wall or door not a window (

where people will not see the backside

) but I recommend it anyways to give it a nice, finished and crisp look.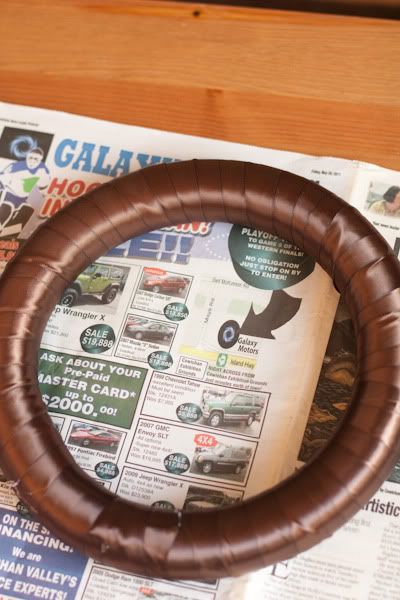 THEN, you're going to want to start on the

outer

edge, right in the middle. So you're first row of filters will lie parallel to your surface....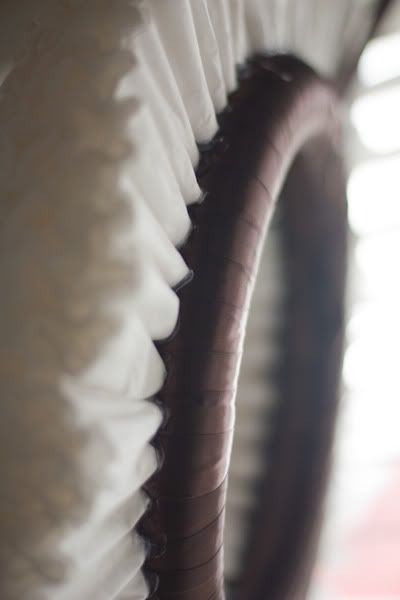 I will confess that I took these photos after my wreath was done.
I had read a few different tutorials on filter wreaths and while I really like the full, foofy, big look of Nester's wreath, I was looking for a more tight, neat, flower look to mine. So this is where I made quite a bit of work for myself. Instead of scrunching up the filter, folding the bottom and gluing it down, I did this......

I folded the filter in half......

.......then in half again.....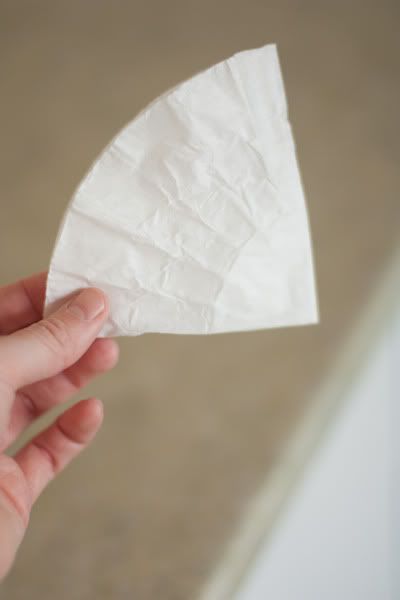 .......and then one more time.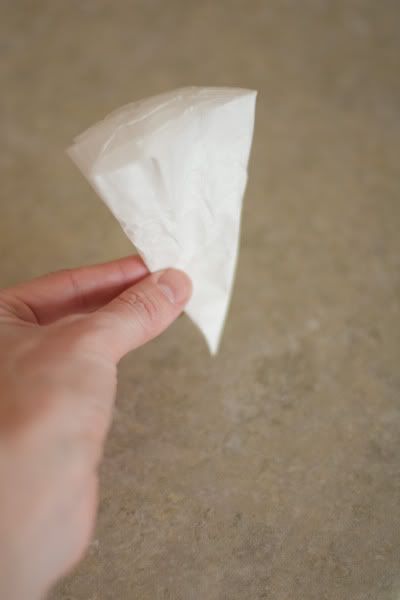 Then I trimmed about an inch off of the bottom on the folded filter......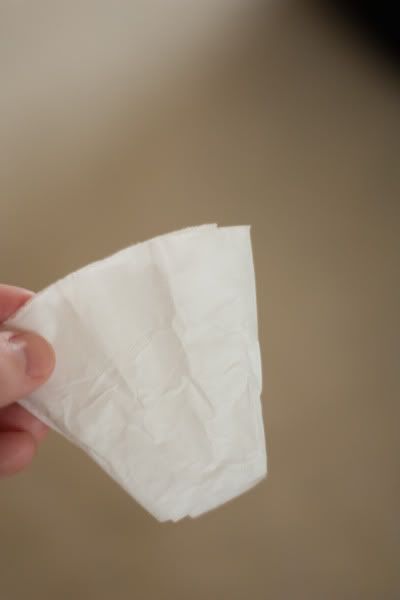 Then with the filter folded just in

half

, I started with one end, and rolled it (

quite tightly

).....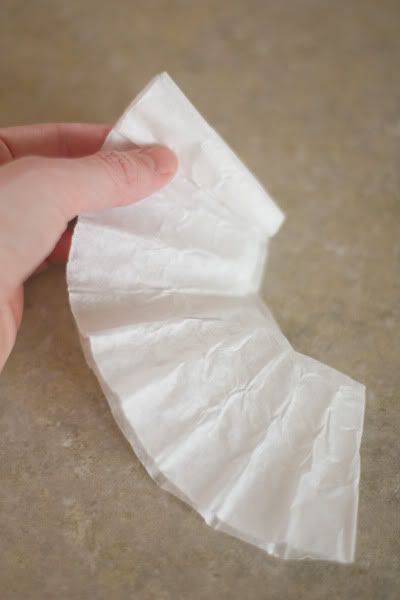 ......and keep rolling.....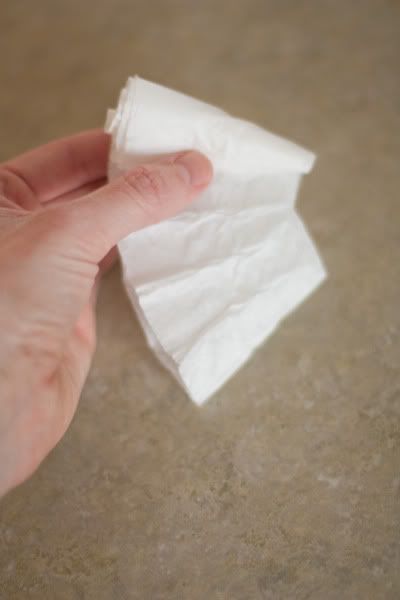 ........and rolling......
.......and you will wind up with a sort-of rosette. I would do about 50 filters in a row so that when I starting gluing, I could just keep going.
Keeping the filter rolled up, put a good sized dab of glue on the tip and press it to the wreath form. I found the first, outer edge took the longest because you'll need to hold the filter to the form until the glue dries, otherwise, the filter will slide out of place (

waiting for the glue to set seemed to take the longest

)

Once your outer layer is done, things move along more quickly because the amount of filter you need per round decreases and you are able to move onto the next filter before allowing the previous one to dry completely since it's resting on the layer before it. I also found that if you tuck the outer seam into the previous filter, it will keep it from unraveling before the glue is dry and allow you to move to the next one even sooner!
Again, it took me a ridiculous amount of time to finish it, but seeing it hang, in all it's glory in my front window, makes it ALL worth it!
Here are a few other sites I found with instructions:
12 Stone Dance - she laid her filters flat and glued the folded bottom.
A Glimpse Inside - she layered an inner, then outer circle and chalked the edge before she glued for a pop of color.
The Little Brown House - She used unbleached filters and scrunched and pinned them to her wreath form.
Live Love & Craft -She also pinned her filters.
Tanda Plain & Tall - Used a similar folding technique but didn't trim the ends.
Our Daily Chocolate - She used she same folding technique I did but instead of cutting the end off, she folded it up and then stapled the filters on.
Happy Crafting!!