Food.
Fire.
Laughter.
Strawberry Daiquiris.
Reading.
Playing.
Biking.
Beach.
Add all that up with a group of the mostest awesomest people ever, and you've got what was our spectacular Labour Day long weekend camping trip.
We stayed at a gorgeous RV resort for three nights and spent copius amounts of time watching our gaggle of children ride their bikes and trikes up and down the street.
:: the girls playing, the Mr. helping Rosalyn on the trike, Miss Paisley eating supper, Denay and Opa, Mommy and Paisley ::

:: Opa and Oma with Liv and Denay, the gorgous view looking to Duke Point, Mr., Jan and Natalie on our evening walk, Opa and his girls, Oma and playing with Denay and Liv ::

:: Paisley and Denay's morning faces, Charlotte and Paisley (the crawlers) trapped in the playpen, Abby on her trike, Denay and Liv playing in the dirt, Abby and Denay on their trikes ::

:: Me swimming away with Evan's inflatable and Evan trying to catch me, Denay at the beach x2, Paisley in the sand, C&K soaking up the rays ::

:: Miss K* being her fabulous self, the girls around the fire, the boys playing a riveting afternoon game of Settlers of Catan, those strawberry daiquiris, Jan's face up really close ::

:: Momma and Paisley, K* enjoying her smores, Liv enjoying her smores, Evan and Liv sittin' by the fire, Rosalyn eating her marshmallow off of a pieces of kindling ::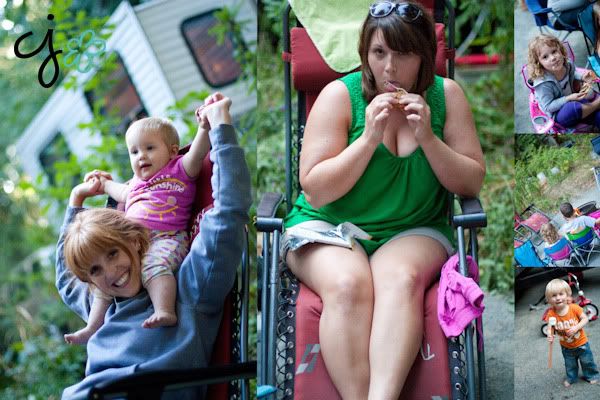 :: just after Dan threw Jan in the water, little Michal sleeping in the front seat of the truck, the lunch table, Evie having a snuggle with daddy, the kids in the sand ::

:: Evan riding bikes, Paisley being pulled around on her car, Paisley playing with Abby's trike, Dan helping Evie ride, Paisley waving to her admirers ::

:: Mr. and Paisley sharing an ice cream cone, the crew waiting for ice cream, Denay's silly face, Liv's silly face, Liv, Denay and Abby enjoying their treat ::

:: Smooches, our double stroller turned into a triple, Paisley in the dirt, C* eating his burger, Evan convinced we was coming home with us ::

I'll admit that I've been in a funk since we got home. My soul is fed and full when I spend time around good friends and coming home and waking up and not being able to say good morning was crumby. I loved eating meals together, serving one another, watching and looking out for each other's kids, walking, talking, laughing and sharing. It feels like real community, like the proverbial "village". Everything was a team effort and no man was left behind. We cooked each other's smores, shared our food, washed each others dishes. And to top it off, we had temperatures in the high 20's ALL weekend!
It was a rich time and I think the overall consensus was that it's going to become annual.
:::::::::::::::::::::::::::::::::
Hope you are having a looovely sunny Saturday!
I've just gotten home from my Midwifery Group picnic and am packing up for a huge potluck supper at the water park to send off four wonderful friends who are moving to the Interior.
Enjoy the warm friends!